Following the success of our first virtual conference, NDP is pleased to present another exciting opportunity. Learn, develop and connect with other disability practitioners with just a click of a mouse!

Format
The conference is online and sits on the Vfairs platform, and will provide opportunities for participants to view live and pre-recorded webinars on working with the NDIS. However, you will save money, without skimping on the experience!

Though a virtual conference, you will still get the feeling of going to an actual one. It's like walking into a real conference Lobby. From there, you'll have a choice to ask questions at the 'Info Desk'; walk into the 'Exhibit Hall'; and watch live / recorded presentations that will run throughout the day in the auditorium.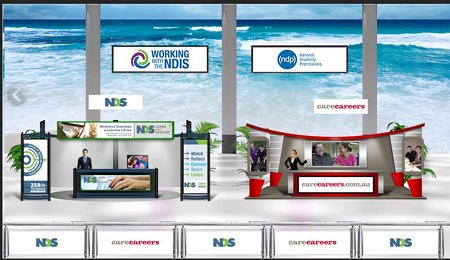 At the Exhibit Hall, you will be able to check out exhibitor stands, chat with someone or learn more about their organisation and programs. What makes it even more exciting, is that you'll also have your very own 'Swag Bag'. This will enable you to download available resources from exhibitors and speakers, which you can email to yourself. But that's not all, you will also have the opportunity for networking in the chat rooms.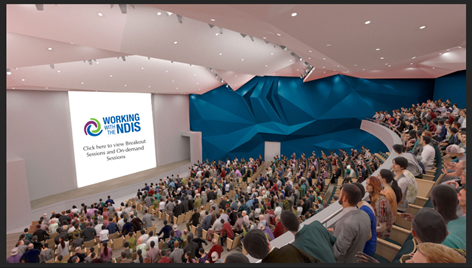 When
* If you were unable to attend the live event on 17 October, don't worry! You will still be able to access all the presentations and exhibitor booths until 18 November 2018.

Cost
Non-members can register for just $60 (30-day access). This event is FREE for NDP members. Join NDP for only $45!

Program
The program will include presentations such as:
Weaving quality and safeguarding into the way you do business
NDIA Updates
The Science of Sustained High Performance (Part 2) - Mental Health
Building and Valuing a Diverse Workforce
Support Coordination: Practical strategies to deliver quality outcomes for participants
Building your Support Worker Toolkit
Download the complete program here - PDF / DOC.
For any queries, please contact the NDP team on 02 9256 3188 or This email address is being protected from spambots. You need JavaScript enabled to view it..
Registration
You will need to register on the Vfairs platform to attend the conference. Please note that the NDP website is different from the Vfairs Conference platform.