Digital technology is a powerful driving force, revolutionising business, lowering costs and extending reach. It can also help businesses deliver products and services faster, respond to changing consumer demands, and welcome new customers locally and internationally who want to buy online. For some businesses, however, grappling with new technology brings challenges, particularly for small business who are already time and resource poor.

The Small Business Digital Champions Project will help small businesses to be more effective, competitive and ultimately, more profitable.

Over two years, NDS will be providing information, practical advice and guidance for small businesses on how to successfully adopt digital technologies when working in the disability sector. Information and services will be delivered through a variety of channels, including face-to-face and online for free.
The project will cover the following topics and much more:
Technology trends and technology adoption
Hardware
Software
Online content development
Social media and digital marketing
Websites
Online security and data privacy
Digital best practice guides
Online digital planning
Digital training
Coaching and support for going online
The first three topic areas, as voted by you in our recent survey, are:
Technology trends and technology adoption
Software
Social media and digital marketing
If you would like to receive information on how you can access the resources, please register for our Digital Champions e-newsletter by clicking here.
Tell us about your journey, challenges and successes in digital transformation by completing this short six-question survey.
Following your feedback, NDS will announce a series of 20-minute webinar sessions, which will commence once a month beginning in August. Sessions will focus on the wide implications of digital transformation for the disability sector using webinars, live sessions, training materials and case studies.
Factsheets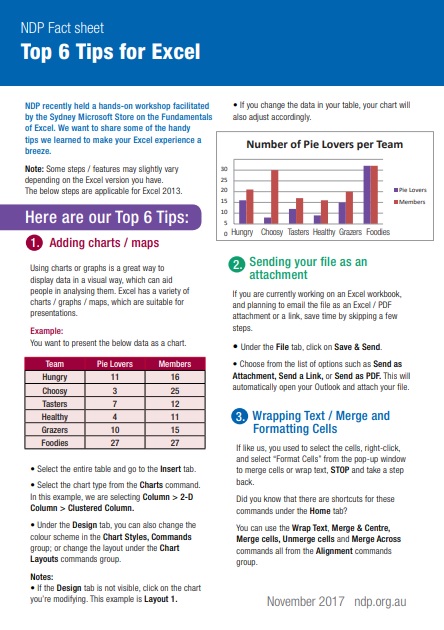 Factsheet - Top 6 Tips For Excel
Download the PDF of the Top 6 Tips for Excel Factsheet
Download the Accessible Version of the Top 6 Tips for Excel Factsheet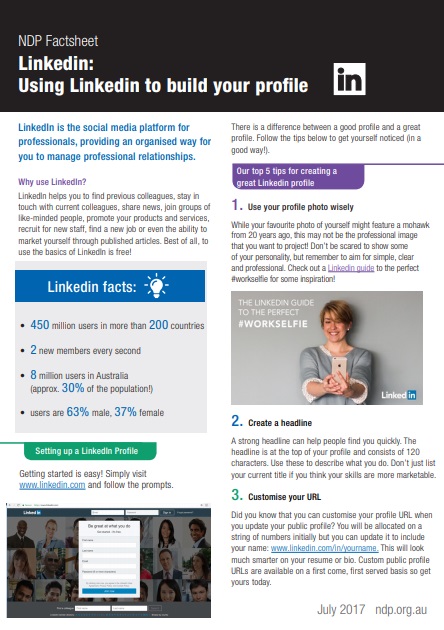 Factsheet - Using LinkedIn To Build Your Profile
Download the PDF of Using LinkedIn To Build Your Profile Factsheet
Download the Accessible Version of Using LinkedIn To Build Your Profile Factsheet