NDP has a small secretariat comprised of our Executive Officer Belinda Allen, Membership & Marketing Officer Cecile Sy, and CPD Coordinator Isabelle Vertucci.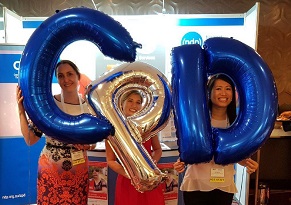 Belinda Allen, Isabelle Vertucci, and Cecile Sy promote NDP's CPD program.
NDP also has a Divisional Committee elected by our members to provide advice in areas of strategy and policy. The NDP Divisional Committee is made up of seven experienced and committed people from a range of disciplines in the disability sector.
Danielle Newport, Chair
Chief Executive Officer, Activ Foundation
Danielle is the CEO and Managing Director of Activ, and has over 15 years' experience in senior corporate and finance roles. Prior to her current role, she was Activ's Chief Financial Officer, General Manager of Strategy and Finance, and General Manager Strategy. Danielle is also a Graduate Member of the Australian Institute of Company Directors (AICD), a qualified accountant (CPA) and Chartered Secretary (ACIS).
David Coyne
Regional Manager, NSW Sydney Region, National Disability Insurance Agency
David has worked in the Human Services sector for more than 27 years. He has held a range of senior leadership roles in Human Services in both the UK and Australia. David was the Director of Clinical Innovation and Governance, ADHC, for the Department of Family and Community Services NSW. A trained psychologist, David has an interest and expertise in supporting individuals with complex support needs.
Richard Mlambo
Direct Support Worker, Scope
Richard is a support worker at Scope in Victoria. He has vast experience in disability development and support. He holds a Certificate IV in Disability and an Advanced Diploma in Community Sector Management. He has been a memer of NDP since February 2015. Prior to working at Scope, Richard was a media, PR and marketing professional. He holds a Masters of Communication.
Glenn Stanton
Accommodation Services Manager, CARA
Glenn has over 20 years' experience in the non-government sector supporting people with disability. In his current role as Accommodation Manager, he has been leading a talented team of people through the implementation of a new support model which incorporates Concierge and Assistive Technology with an emphasis around environmental controls.
Elise Taylor
General Manager, Strategy & Development, Cerebral Palsy Alliance
Elise has over 20 years' experience in the disability sector, working for organisations including Cerebral Palsy League of Queensland and Maudsley Hospital London. She has a MA in Educational Psychology and Executive MA in Business Administration. She's a member of the College of Educational and Developmental Psychologists. Elise joined CPA in 2001 holding a number of management positions and was recently appointed GM, Strategy and Development.
Jo Kot
Training Coordinator, Greystanes Disability Services
Jo has over 13 years' experience in the disability sector working in various roles. As a Training Coordinator at Greystanes Disability Services, she oversees the training and the professional development needs of all Greystanes employees. Previously, she worked to provide meaningful and enjoyable educational, recreational and skill-building day time activities to adults with a range of support needs as a Practice Leader and Lifestyle Educator for Greystanes.
Patrick Vasquez
Principal Consultant, SUDACA Consulting
Patrick has more than 16 years' of sector experience in various front line and middle management roles and has extensive experience in individual and system advocacy, community development and policy work on the NDIS and related programs such as ILC. Patrick is currently the Principal Consultant of SUDACA Consulting, working with current and new NDIS providers to ensure they thrive under the NDIS.
Our dedicated committee operates under the provisions of the NDS By-Laws: