Save the Date!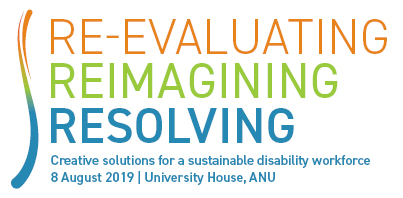 Thursday 8th August 2019 (6:00pm - 7:30pm)
Join us at this special evening event which will be held on Thursday 8th August 2019, 6:00pm to 7:30pm, at the Common Room, University House ANU where stakeholders and the wider ACT community will be informed of the findings that have emerged from the WIC project and the learnings from each of the individual WIC pilots. This will also be an opportunity for all those who have been involved at any stage of the WIC project to celebrate its achievements. Minister Rachel Stephen-Smith will be addressing the gathering which will feature a Q & A session around the WIC Project and Pilots. Watch this space over the next few weeks for details on how to register your attendance!
Harnessing a Collaborative Vision
Stakeholders in the ACT Disability Sector came together on 23rd May 2019 at a WIC Visioning Workshop to reflect upon the learnings of the WIC journey so far, and to discuss how the collective impact process could continue into the future. The session was run by Sophie Pinwell and Dave Green from Clear Horizon. Present were people with lived experience of a disability, disability support workers and representatives from Sharing Places, Hartley Life Care, Koomarri, Catholic Care, Valmar, Belconnen Community Services, Mental Health Foundation, Community Connections, CIT, ACTCOSS and NDS as well as members of the WIC Steering Group. Thank you to all of the wonderful people who attended on the day and participated in the workshop with enthusiasm and optimism for the future.
| | | |
| --- | --- | --- |
| | | |
| Kylie Stokes (Sharing Places), Karen Noble (CIT), Mary-Ann Kal (Sharing Places) and Sue Healy OAM (WIC Steering Group) | | Marija Lemnic (WIC Steering Group) and Sue Healy OAM (WIC Steering Group) |
| | | |
| Faye Jackson (Community Connections) and Lou Bannister (WIC Steering Group) | | Mark Beanland (Valmar) and Renee Heaton (WIC Steering Group) |
Lou Bannister - Redefining Leadership
Congratulations to our wonderful WIC Steering Group member Lou Bannister who is always 'larger than life' and now appears larger than life in the ACT 'Redefine Leadership' Exhibition in the Canberra Centre in the ACT throughout March. If you can't make the exhibition, you can read about Lou's achievements at https://www.womenaustralia.info/exhib/wwdact/entry-louise-bannister.html
Louise at the opening of the 'Redefining Leadership'
Exhibition at the Canberra City Centre
Congratulations Sue Healy, OAM
Our warmest congratulations to a dedicated member of our Workforce Impact Collective Steering Group, Sue Healy, for being awarded a 2019 Order of Australia Medal (OAM) for services to people with a disability. It is wonderful to see Sue's amazing contributions recognised in such a special way.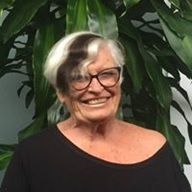 Sue Healy, OAM
Gathering Collective Momentum
Stakeholders in the ACT Disability Sector recently gathered to discuss solutions and ideas to strengthen the state's disability workforce. On 20 November 2018, the ACT Workforce Impact Collective (WIC) hosted the event, Gathering Collective Momentum: people, ideas and resources, which was also attended by the ACT Minister for Disability Rachel Stephen-Smith.
The evening focussed on WIC's journey to date, and featured current innovative projects to improve services for people living with a disability. Guest speaker Cathy Bucolo from Summer Foundation, based in Victoria, presented their project on participant-led videos. The project supported people with disability to make their own training videos for support workers. David Hill and Susan Beaumont from Achieve by Design also presented their WIC pilot that aims to encourage mature age workers to join the disability workforce.
Attendees enjoyed the opportunity to exchange and discuss ideas, which demonstrated the sense of community created by a collective approach. During the event, the WIC team also announced current funding opportunities, and encouraged individuals, groups or organisations to submit proposals.
| | | |
| --- | --- | --- |
| | | |
| ACT Minister for Disability Rachel Stephen-Smith (front row) and other attendees inspired by the presentations. | | Paul Mugambi and NDS ACT State Manager Rey Reodica chat at the end of the presentation. |
>> WIC Home
>> About Us
>> Pilots
>> Register your idea
>> Contact Us