Lou Bannister- Redefining Leadership
Congratulations to our wonderful WIC Steering Group member Lou Bannister who is always 'larger than life' and now appears larger than life in the ACT 'Redefine Leadership' Exhibition in the Canberra Centre in the ACT throughout March. If you can't make the exhibition, you can read about Lou's achievements at https://www.womenaustralia.info/exhib/wwdact/entry-louise-bannister.html
Louise at the opening of the 'Redefining Leadership'
Exhibition at the Canberra City Centre
Congratulations Sue Healy, OAM
Our warmest congratulations to a dedicated member of our Workforce Impact Collective Steering Group, Sue Healy, for being awarded a 2019 Order of Australia Medal (OAM) for services to people with a disability. It is wonderful to see Sue's amazing contributions recognised in such a special way.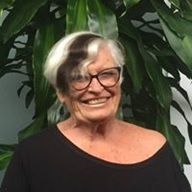 Sue Healy, OAM
Gathering Collective Momentum
Stakeholders in the ACT Disability Sector recently gathered to discuss solutions and ideas to strengthen the state's disability workforce. On 20 November 2018, the ACT Workforce Impact Collective (WIC) hosted the event, Gathering Collective Momentum: people, ideas and resources, which was also attended by the ACT Minister for Disability Rachel Stephen-Smith.
The evening focussed on WIC's journey to date, and featured current innovative projects to improve services for people living with a disability. Guest speaker Cathy Bucolo from Summer Foundation, based in Victoria, presented their project on participant-led videos. The project supported people with disability to make their own training videos for support workers. David Hill and Susan Beaumont from Achieve by Design also presented their WIC pilot that aims to encourage mature age workers to join the disability workforce.
Attendees enjoyed the opportunity to exchange and discuss ideas, which demonstrated the sense of community created by a collective approach. During the event, the WIC team also announced current funding opportunities, and encouraged individuals, groups or organisations to submit proposals.
| | | |
| --- | --- | --- |
| | | |
| ACT Minister for Disability Rachel Stephen-Smith (front row) and other attendees inspired by the presentations. | | Paul Mugambi and NDS ACT State Manager Rey Reodica chat at the end of the presentation. |
>> WIC Home
>> About Us
>> Pilot Funding Program
>> Apply for Funding
>> Contact Us