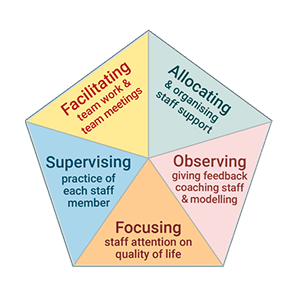 Each day, support workers directly influence the quality of life of the people they support. What support workers do and how they do it matters to the lives of people with intellectual disabilities.
Support workers - like staff in any organisation - need guidance, instruction and support to develop their skills and become competent. It is the role of Frontline Practice Leaders to help support workers to develop and enhance those skills.
What is the Frontline Practice Leadership Training Resources?
This free training resource is designed to improve the practice of support workers and the quality of life of people with intellectual disabilities.
What is involved?
​There are six modules that teach you how to do the tasks of Practice Leadership.
You should work through the modules in the order they are presented
Make sure you read the text and watch the videos
You can work through the modules on your own or with colleagues
Trainers can use the material on this website as a resource
You will find on the Resources page training PowerPoint slides and downloadable videos
Who is the training resource for?
Frontline Practice Leadership Training Resource is for:
frontline supervisors,
service managers, and
experienced support workers.


You will learn how to:
Observe the practice of disability support workers and give them constructive feedback
Have productive discussions with staff in supervision
Run effective team meetings
Help staff to develop their support skills
Embed Active Support in services
Deliver well organised and consistent services
How to training resource can be used
Frontline Practice Leadership Training Resource can be used for in-house training, individual study or in team discussion. It was developed from research by the Living with Disability Research Centre at La Trobe University, funded by the National Disability Insurance Scheme Quality and Safeguarding Commission, and filmed with the support of Unisson Disability Services.