In 2019 the Department of Jobs and Small Business appointed NDS as one of 15 Australian Industry Associations as part of the Small Business Digital Champions Project. Our role is to establish a trusted digital advisory service to our members and to promote the benefits of 'going digital'. As part of this project, NDP ran a competition where we asked how member small businesses used technology to adapt during the COVID. Our members were asked three questions. What was the problem your business experienced? What technology was your solution? What was the outcome for your business? We had a swell of entries. Here is a selection from businesses with fewer than 20 people.

"During COVID I was not able to meet and work with people face to face.
I had already spent all of 2019 remaking some films with a group of other people with autism like myself. I realised if I put them onto Vimeo, I could send people the links and so work remotely with them if needed, it turned out perfect timing.
I started using Zoom to meet with people and continue the work we were doing. I could send the Vimeo links a week before and then meet on Zoom, which was much more flexible for people too.
My business grew! Although I have gone back to working face to face, I started working with someone remotely. As I am a registered NDIS provider, I can now work with anyone in Australia!"

"We assist people with disability to take an increased level of control of their NDIS funding and their services.
COVID really highlighted our need to be flexible and digitise our communications. We often met with clients face-to-face to provide support or ease their anxieties with managing their own plans. For people and families with NDIS funding, it was really important for us to work alongside them to ensure that all their worries are eased.
COVID prevented us from doing that. It limited our travel to regional areas like the Pilbara or the Great South West regions where we had clients. Due to the limitations on travel, especially during the initial lockdown last March, we needed to adapt quickly and efficiently. We started using Microsoft Teams for team meetings while we used Zoom to provide one-on-one support to our clients.

We also encountered barriers with getting our clients to adapt this new form of communications. A lot of our clients didn't trust the internet. There were also some who didn't know how to, so we really needed to work alongside them to ensure that they had both the capacity and skill to move to online one-on-one meetings.

Our business actually grew during COVID. We saw an increase of regional clients because geographical limitations started to decrease. This new form of digital communications allowed us to be on call for our clients when and where they needed us.

Most of them opted to still have supports throughout the lockdown because they felt an increased level of control. Although initially, we moved to a completely digital platform, we will be remaining on this platform for the foreseeable future. This has allowed us to take advantage of technology to reach and support more people in a wide geographical area."

"I am counsellor with a Masters degree in Disability Studies who provides therapeutic services for people with a disability.

During Covid this was especially challenging in working with children with ASD, as zoom and phone were my only options for sessions for some time, and a lack of interaction was stalling progress in some cases.

For one young client with an interest in technology and gaming, my business contracted a customised suite of Virtual Reality programs that linked to the client's identified goals (all involving a change of mood and giving the child control) using a personalised VR headset (controlled administratively by my business, so only the therapeutic programs could be used on it: https://business.oculus.com/)

After a training session with the client and his parent (huge room, social distancing and all precautions taken), the client was able to practice the skills and strategies he was learning during our zoom sessions at home.

The primary aim was to assist the client to learn to be able to accurately identify the signals his body was sending that indicated which emotions he was experiencing. He could then either manage that emotion, or choose programs that would help change his mood. In this way, the client had access to resources that helped him regain his self-control and provide a feeling of empowerment. Regular use of the VR programs created an intimate knowledge of the key experiences that he could 'replay' in his head, as part of his self-regulation in the real world.

For the client, a new sense of mastery developed over time as he learned to recognise his emotions and could use tools to help manage or change what he was feeling (to shed anger constructively, soothing or grounding or escape.) Most important was his development in being able to identify his emotions and have some control over them. Initially prompting was required from his parent, but over time he became more skilled at understanding when the therapeutic 'games' could assist him."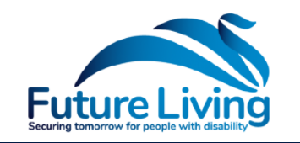 "Due to the restrictions put in place by the health department, Future Living were unable to host our quarterly Safe & Secure Forums which give parents of children with disabilities the opportunity to learn about long-term future planning to ensure their child is protected after parents are no longer here…

We established the Safe and Secure website https://safeandsecure.org.au; where parents can access a 6-step program in a self-paced, interactive environment to learn how to build a roadmap to safeguard their child's long-term future from the comfort of their own home, anywhere in Australia.

We also developed additional features such as podcasts, presenter videos, and worksheets to the website to make it more user friendly and provide different learning opportunities suited to individual preferences.

A key goal of the project was to make the information resources developed during the project broadly accessible not only to parents in the metro areas but to provide the same information to those living regional or remote. Previously, participants needed to physically attend a forum to receive the information. A Facebook campaign was used to promote access to the material...

We are very proud to have been able to establish and promote this platform at what would be considered a difficult time for our organisation. This was the first time our organisation used technology to really make the most of the expertise it has to offer to create a product with longevity and the ability to reach clients all across Australia."

"I worked within the community health, mental health and disability services for a number of years. I decided to open my own business in late 2019 - during the Covid-19 lockdown I embraced technology and IT to continue providing support to the often vulnerable participants that I work alongside. Therapeutic support is often a face to face service, the restrictions of lockdown as well as vulnerable participants choosing to reduce their face to face contact meant that my business needed to transform to continue working alongside participants.

The reduction of face to face work meant we embraced phone and IT solutions such as Skype, Zoom and House Party to allow participants and customers to continue providing support... The implementation and the expansion of technology into our business has allowed us to reduce the commute required, often has allowed us to increase our reach on new customers as well as provided more work life balance for practitioners."